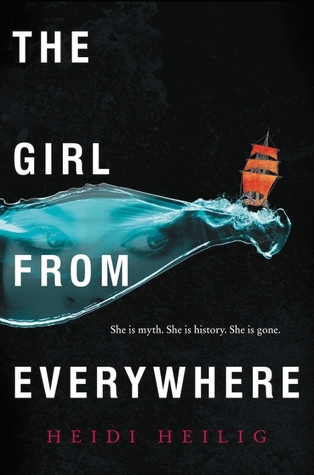 So far this year this book is one of my favorite reads. It's has a little of everything, adventure, romance, and mystery.
The
protagonist is
Nix, she's a good mix of Belle from Beauty and the Beast, and Elizabeth from The Pirates of the Caribbean. With her amazing knowledge of mythology she become an unforgettable character.
Her father can navigate his black ship, The Temptation, through time with the help of maps. He want to get back to back to Nix's mother but her mother died giving birth to her. Nix's worried that if he succeed she might no longer exist, but with her wealth of knowledge about map, history, and mythology he need her help. When she refuse he threaten to leave her best friend and possibly her love where she can't return. Will she refuse risking being like her father or help him?
I love the mix of opposites in this story, facts and fiction (Mythology) Everything in this story is itself and its opposite (Once you read the story you'll understand, I promise) Even Nix's name has this principle.
After reading this I wish I could visit 19th century Hawaii. Heidi Heilig made it sound magical.
I did think the beginning was a little confusing and slow. Keep reading it get better. I wonder if it would be more interesting if it started where Nix's running through the market with the bird instead of trying to explain the bird's importance while she trying to bargaining for it. It might have been confusing but I would had the question of why running through my head.
Anyway I still love this book, and it's coming out February 22, 2016 buy this book!